A true football player (or any lifelong athlete) spends their entire career battling physical and mental PAIN. We learn to block out anything that hurts and attain a pain tolerance known to only a small percentage in the world. We learn to love the "big game, the pressure, the against all odds situation." After our careers are over, shortened, stopped, or paused for whatever reason, many of us still seek that goal, fight, competition, adrenaline, violence or battle.
My football career was stopped by a complete Achilles rupture, while returning a kickoff in Europe, back in 2001. Ironically, the NFL finally had given me a chance when the Chicago Bears invited me to a Spring Training Camp a week later. After surgery and a year of rehabilitation, the leg just wouldn't respond, nor allow me to train everyday in order to keep the talent needed to compete professionally. I had worked my entire life to reach that point. I knew all I needed was that chance. But, the Achilles tore and that was the end. Oh well, no regrets and no wasted talent…I spent it all…but my mind was still strong and needed a way to fill that void..
I knew I could still do something professionally and thought I could move well enough to box. I had never boxed before, but had well over 100 amateur fights on the football field with teammates throughout the years…hence, a few years later, I accepted an offer to fight at America's longest running boxing show- the "Battle in the Ballroom" at the Irvine Marriott…this was a good test for me because I only had 30 days to learn how to box, get myself in shape again, and go for it. It was a war…a great night
Now I've started my own Professional boxing stable. I want that guy who loves the WAR. I want that underdog who believes in BIG things, and is willing to do what it takes to get there. There's nothing better than setting a high goal against all odds, preparing for that unattainable goal, and then CONQUERING that goal. Life does not get any better. Very few people go through life ever getting a chance to know that feeling ~ ever knowing what it's like to truly 'get crazy' ~ I feel sorry for them.
Whitehorse Stables has 5 professional fighters right now:
Heavyweight Takilesi Fifita, Light Heavyweight Matahi Pito, Super Middleweight Mario Ortiz, Middleweight Bobby Chavez, and myself (Light Middleweight).
If you want to join our stable, you don't need any experience. You just need to commit. That's a lot easier said than done.
Give me a call
if you want to go
to war with us.
-Jimmy Nolan
(714)981-8351
___________
It is not the critic who counts;
not the man who points out how the strong man stumbles, or where the doer of deeds could have done them better.
The credit belongs to the man who is actually in the arena, whose face is marred by dust and sweat and blood; who strives valiantly;
who errs,who comes short again and again, because there is no effort without error and shortcoming;
but who does actually strive to do the deeds;
who knows great enthusiasms, the great devotions;
who spends himself in a worthy cause;
who at the best knows in the end the triumph of high achievement, and who at the worst, if he fails, at least fails while daring greatly, so that his place shall never be with those cold and timid souls who neither know victory nor defeat.
~ Theodore Roosevelt,1910
Answering the bell
Laguna Beach High football Coach Jimmy Nolan
steps out of retirement to box again.
By Mike Sciacca, OC
Retirement didn't last long for Jimmy Nolan.
It was 14 months, to be exact.
Moments after scoring a knockout in his first professional boxing match on Feb. 16, 2005, Nolan, the head football coach at Laguna Beach High, announced his retirement from the ring.
Nolan revealed his somewhat-surprising decision during a news conference following his knockout of John Huskey of Moore, Okla.. The four-round, middleweight bout played out before a standing-room-only crowd at the "Battle of the Ballroom" at the Irvine Marriott.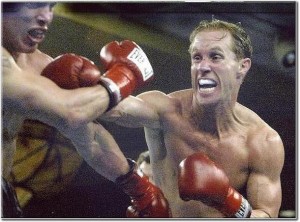 But Nolan, 34 ("put 'on hold' after turning 21"), recently said that he will step into the ring again. His next boxing match, he said, will be held in late-May or June. He said that the fight "could be" an undercard of a big event at Staples Center, or be at the Irvine Marriott again.
"Right now, we are trying to get the best fighter we can find, to fight me," he said. "I want this to be against all odds. That's a great feeling for me."
…Nolan also doesn't know what weight division he'll fight in. He and his trainer, Frank Rivera, said they are "thinking" the 154-pound class, a light-middleweight, as a possibility.
Nolan said he and Rivera have not begun a training regimen for the upcoming fight.
"I'll have less than two months to prepare, but that's a month longer than last year," he said. "Plenty of time."
Nolan will be juggling a schedule that includes coaching the Laguna Beach varsity football team, running his business, Speed Kills, and preparing for his second fight.
He could have stayed out of the ring, retiring undefeated with a modest record of 1-0.
But that's not Nolan, who played football at Mater Dei and then the University of Utah.
"I promised my family that I would only fight once, because it really depressed them knowing I was going to fight," Nolan said. "They've seen what I've been through on the football field. They know I am lucky to still be walking. So, when I decided to compete again, it scared them. They know I'm like an 'old racehorse that broke his leg.'
"Now, after months of reasoning with them, they understand why I want to fight again. My family is OK with me competing again. They understand."
Nolan went into the ring last year with a tender shoulder and Achilles rupture in his leg. He's still banged up a bit, but will forge on — again.
"I know I can still compete, despite my handicaps," he said. "So, that's what I'm doing, spending it all. No regrets or wasted talent here. It makes me feel alive to have the chance to do something like this. It makes me happy.
"It's not about the fight itself. It's about having a goal, sacrifice, discipline, hard work, focus, accountability, consistency, commitment, motivation, mental toughness, health and perseverance through adversity… Sometimes you've got to live a little. I choose to live a lot."
Will he go into retirement again, following his upcoming bout?
"If I can still move, I'll probably fight again," he added. "I don't know. You'll have to ask me after the fight."