WE WILL TRAIN NEW YEARS JAN 1ST 7PM
SPEEDKILLS …since 1998 (OVER 200 scholarships)
21 Year Anniversary!
21st Year of Speed Success!  …we'll train now until summer.  Join any time! 
• 17816 Bushard St, Fountain Valley, CA 92708 (X-streets: Slater/Bushard) on Football Field • new turf
• Tuesday & Thursday 7pm
• $30 per session OR $200 per month (your month starts the day you join)
• ALL SPORTS • ALL AGES • Male/Female
• EASY sign-up upon arrival, or email for SK Registration Form: JimmysSpeedKills@yahoo.com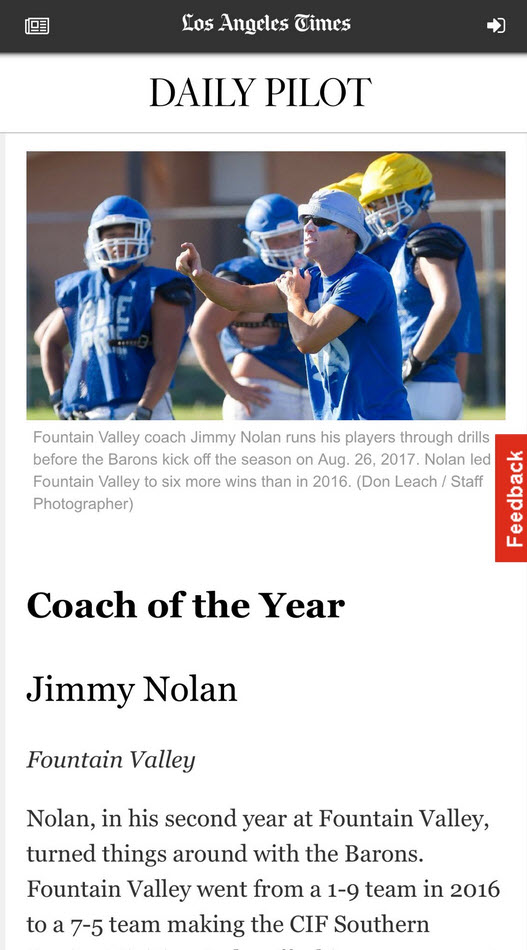 2017 Los Angeles Times • Daily Pilot Football Dream Team: 
Coach of the Year – Jimmy Nolan • Fountain Valley
Happy Holidays! Many athletes in todays football culture have convinced themselves that year round passing league games are a smart off-season replacement for weight room and speed work. Many prefer the year-round games because "it's more fun." I'm not telling you to stop having fun, I'm advising you to do the necessary work to be better at passing league ~ and if you're a wise footballer ~ prepare for the actual game (the game where you have to block and tackle, or beat a block and break/shake a tackle).
In all sports, we're told "you gotta get bigger-faster-stronger" in the offseason…I agree with that. If you want to get noticed by a college (especially if you desire a D1), make no mistake: you need to get faster-faster-faster. Not many scouts care about a high school kids bench press or squat; they know once they have you, they can add as much strength and size as they see fit. What they're looking for is athleticism: not just straight ahead track speed; they want to see you change directions, explode to second and third gear, display incredible balance, perform smart while you're tired, produce the entire game, see how you handle adversity, and watch your body move smooth.
When you get older and look into buying a house, the realtor will suggest "location-location-location" …you can always make the house bigger, paint it a different color, and change it up….with athletes, scouts will tell you they want to see strength and size, but let's be real clear on this: they want to see speed-speed-and speed…in that order…unfortunately many scouts believe "you can't teach speed ~ some are just born with it." That's the biggest myth ever invented (by coaches who never ran fast), and it's told all day every day in the football world. And you whiteboys better believe, in the football world your skintone has become synonymous for "slow"….so get your mind right and understand YOU CAN GET FAST. Don't believe you can't…that's crap.
Speed Kills is starting back up Thursday Nov 29th, 2018. Since 1998, over 200 athletes have gone on to solid college football careers after going through Speed Kills…come get "game ready." And if the new local bum speed trainer suggests "he does the same training as Speed Kills" ~ train with him…then come to SK when you're ready to get serious.
______________________________________________________________
Welcome to Speed Kills!  Thank you for visiting our website. You're probably here because you are interested in getting faster. You came to the right place. At Speed Kills you'll not only get faster, you'll get better at the sport you play.When looking for a trainer to help you get faster, you need to understand that getting faster means NOTHING, unless the speed you attain will carry over to your sport and on the playing field ~ SPEED KILLS ATHLETES ARE GAME-READY.The best way to get faster/better is by pushing yourself to the limit. The best way to push yourself is by competing. Why is it a necessity to be quick and fast in your sport? If you want to be the best, you have to be able to move with the best; or move better. Why do you want to be the best at your sport? Most of us want to be the best to reach that ultimate goal:
~ A COLLEGE SCHOLARSHIP ~
Nowadays, college will cost well over $100,000 ~ Speed kills is here to get you to that ultimate level of achievement; and besides making you a dominating athlete, if you're interested, we'll get you that scholarship you are dreaming of (check out the our SPEED KILLS ELITE GROUP page).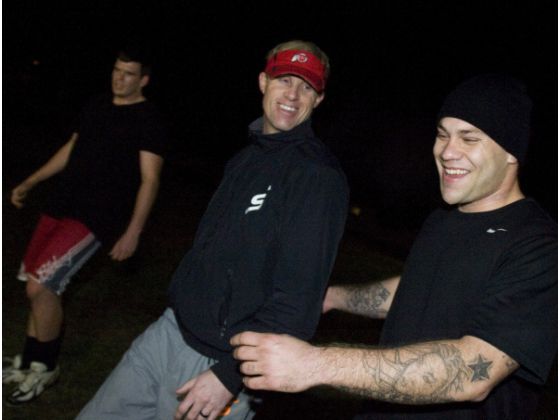 SK 15 year anniversary as seen in the OC Register (click picture to read article)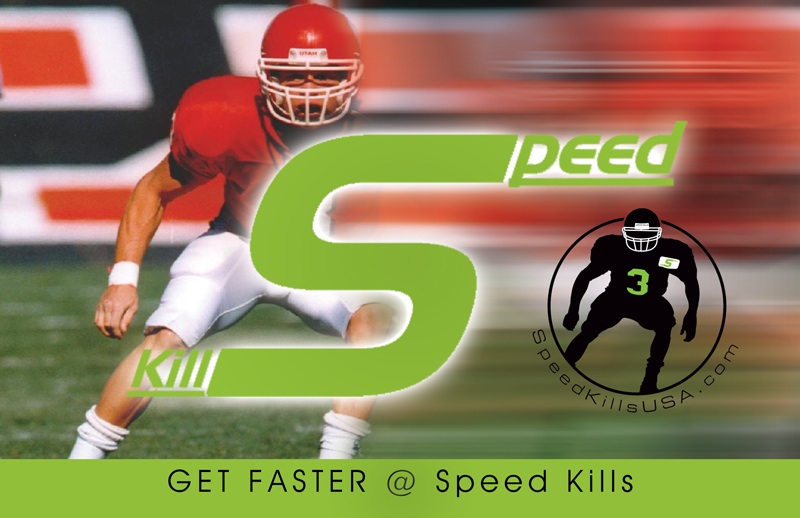 2011 Los Angeles "Dream Team" Coach of the Year (click)
IT'S 2016~ SPEED KILLS ~
19 YEARS
OF SUCCESS STORIES!!!
As of Nov 2018 "2004" SPEED KILLS ATHLETES HAVE GONE ON TO RECEIVE COLLEGE SCHOLARSHIPS
Many companies train athletes. Speed Kills
MAKES

athletes.

What is…"Speed??"
Is speed a 40 time? Nope.
Speed is: "production" or "making plays"
Often there's a supposed fast guy in a game who never makes things happen, never makes plays, and never PRODUCES.
Is he fast?

A FAST GUY IS THE GUY WHO MAKES THINGS HAPPEN

THE GUY WHO MAKES PLAYS
THE GUY WHO PRODUCES

THAT IS "SPEED."
Our athletes produce…WE ARE FAST.
-Jimmy Nolan
Who am I? My name is Jimmy Nolan.
I've been running this business since 1998. My whole life has centered on being the best athlete I can be, both mentally and physically. I've poured everything I am into Speed Kills and have learned everything through EXPERIENCE. I have been dominating my opponents for the past few decades and know what it takes to achieve success regardless of my height, weight, or color. I dominated the ranks throughout my childhood, high school (Mater Dei), college (University of Utah), and Professional Arena and European Football….and came out of retirement to become a professional boxer (after a football career ending Achilles rupture). Unlike most trainers out there, I've been through it ~ undrstanding what works and what doesn't.
Being a typical, skinny lil' whiteboy, who many said "will never make it at 5'11" 174lbs," I found the way to achieve success amongst giants (for example: I ran a 4.3 40 yd, bench pressed 415 lbs, squatted 500 lbs, and was invited to the National All Star Bowl following my senior season at U. of Utah).I recommend you learn from someone who has been through it all, rather than someone who learned from reading a book, renting a video, attending a fancy seminar, or getting a weekend course personal trainer license ("certified")
( Above: Irish twins : "Paisley Grace" is 10 and "Jimmy-Quick" is 5 … "Daisy Rain" is 4 and "Micki Valentine" is 1. (photos coming soon 🙂
*** More than "200" SK athletes have received college scholarships ***
Speed Kills has been changing athlete's lives since 1998.
This program's designed to give athletes the knowledge of what it takes to perform at a higher level. Jimmy Nolan has put together some of the finest drills and techniques to get the absolute most out of your natural athleticism. He makes OVER-ACHIEVERS. The knowledge/skill you'll gain from Speed Kills can be used for the rest of your athletic career, and it'll also help you mentally in everything you do. There have been hundreds of mediocre athletes that have excelled in his/her sport after learning the Speed Kills ways of training.
No experience in any sport is needed and we encourage anyone, male/female, no matter how big or small, to join us…regardless of the sport you play, Speed Kills will supply you with the knowledge of what it takes to reach your goals. You'll become faster, laterally quicker, explosive, coordinated, and mentally stronger; enabling you to perform at a higher level!
Thousands of athletes have gone through this program: many professional and top division 1 collegiate athletes. – Should we advertise about all the great professionals Jimmy works with? Yes and no… why NO? – Anyone can train a professional athlete. Why? -Because they're already great. They've learned what it takes to compete at the highest level and most are naturally blessed mentally and physically. What should we advertise?
"Anyone can train a gifted athlete, and I am proud and honored to train many of them. But I am most honored training those kids that have two left feet, have trouble putting on a pair of cleats, difficulty following directions, uncoordinated, no confidence, too big, too little, weak, too young, slow, no experience, no mental toughness, YOU NAME IT… These are the kids that we need trainers for. Kids need to believe in themselves, on and off the field, in all facets of life. My training is known to also improve their motor skills in the classroom…I am just as honored in helping kids with hardships, problems (drugs, alcohol, society's poisons, etc). I am here for anyone who needs some direction. Allow me to help you."
It is essential to train against athletes faster/better than you in order to push yourself to get to the next level.
90% of the teams trained by Speed Kills have gone to playoffs and further. Speed Kills gets these kids in shape BEFORE they start their sport season, which enables their coaches to get right into schemes and game-plans without having to take valuable time to get their out-of-shape kids ready to compete.
People that try Speed Kills stay with Speed Kills.
Anyone can teach you to get faster straight ahead…but what about being able to control your mind in a nerve-racking pressure gamelike situation for an entire game? What about the ability to move side-to-side just as fast as straight-ahead?…What about the ability to improve the least gifted player's confidence? -this is where Speed Kills come in.
Are there other companies out there that train athletes to run? YES. Are there other companies out there that do what Speed Kills does? NO…never. Although there are plenty who try…we're often imitated, never duplicated.
Our athletes come to Speed Kills through "word of mouth." Most come from many other random pop-up camps and personal trainers throughout Southern Cali. Remember, you don't need to be a certain height/weight to become successful at your sport; YOU JUST NEED TO KNOW HOW TO GET THERE.
Thank you for your time.
We look forward to meeting you and getting you READY!
~Speed Kills
There are countless success stories about athletes that have come to Speed Kills as 2nd or 3rd stringers on their team, and then became 1st string and All Conference selections.
For example, one of our athletes came to Speed Kills as a slow, overweight, offensive lineman. After a year with us, he ended up starting at tailback and safety for his high school football team, earned a scholarship, played tailback in college and received a free college degree.
Since 1998, SK has helped more well over 100 athletes receive athletic scholarships to different colleges.
What to expect at Speed Kills…
Speed Kills is a program to get you faster straight-ahead AND laterally quicker/agile. Nowadays, everyone thinks it's only important to run fast straight-ahead. It is important, but much more important is the ability to move laterally. At Speed Kills, we're going to teach you how to achieve the whole package. A big part of the straight-ahead/lateral package is mental. We need to believe we can run fast before we do. By believing we are fast and envisioning ourselves running fast, we will run faster.
Confidence is achieved at Speed Kills by learning how to work hard and getting ourselves in the right mental state every time we work out. It really is amazing to see how much better my athletes can move, once he/she has learned to use their mental side. At each session of Speed Kills, you will work on straight-ahead speed, lateral speed, explosion, coordination, body control, mind control, and foot speed.
We'll put you into game-like situations when you must focus while you are tired. You will COMPETE with other quality athletes; that is how you get better, by competing. Other programs will not have you compete. In almost every sport, you are usually trying to beat or catch someone… so it is essential that you compete while you train and prepare for COMPETITION. I will prepare you to put yourself into the "zone", where you can use your mind, confidence, and skill to dominate your opponent. At Speed Kills, you do not just train to get ready…you prepare to be the best.
Get yourself ready…have no regrets…see you at SPEED KILLS!


In choosing a personal trainer;
Find out what the trainer has done in his/her athletic career.
Were they fast?
Did they play a sport…how long?
Were they successful?
Can they prove it?
Find out if they really care about their athletes or if they are just in it for the money.
When an athlete comes to Speed Kills, he/she stays at Speed Kills. All of my athletes keep coming back. These are the same athletes that tried 3-4 other programs and paid enormous amounts of money.
Research how the trainer will get you faster…will he have you running on a treadmill? I don't remember the last time I saw a treadmill on a football field, basketball court, baseball diamond, etc.